VIETNAM BUSINESS NEWS MAY 30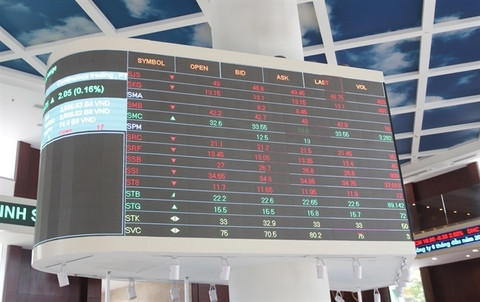 The Ho Chi Minh City Stock Exchange (HOSE) has announced a decision on regulating trading time for restricted stocks on the bourse.
Stocks subject to trade under restriction on HOSE can only be traded in the afternoon session of the trading day by centralised order matching and put through trading methods.
The decision takes effect from the date of signing, which was May 25, and the amendment and supplementation of this decision was decided by the General Director of HOSE after being approved by the Chairman of HOSE.
On May 25, HOSE announced to list LCM shares of Lao Cai Mineral Exploitation & Processing JSC in restricted trading starting from May 25, due to late submission of the 2021 audited financial statements. Therefore, from May 26, LCM shares can only be traded in the afternoon session by the method of centralised order matching and put through trading.
Recently, HOSE announced the transfer of three stocks in the FLC family, which are FLC Group (FLC), FLC Faros Construction JSC (ROS) and HAI Agrochem JSC (HAI), from controlled to restricted trading list from June 1.
This means all three stocks can only be traded in the afternoon session of the trading day by centralised matching and put through trading methods.
CAAV proposes three options to upgrade Con Dao Airport
The Civil Aviation Authority of Vietnam (CAAV) has proposed to the Ministry of Transport three investment options to upgrade Con Dao Airport, in the southern province of Ba Ria – Vung Tau.
If the airport is invested in and upgraded, it will be able to receive larger aircraft, bringing efficiency in operation, promoting socio-economic development and tourism in the Con Dao island district.
Con Dao Airport is currently only operated by Vietnam Airlines and Bamboo Airways with ATR72 and Embraer E195 aircraft.
On May 12, ACV's Board of Directors submitted the plan for 2022 to the Committee for Management of State Capital at Enterprises about the passenger terminal and aircraft apron project at Con Dao Airport.
If ACV does not invest in an aircraft apron as planned between 2022 and 2024, Con Dao Airport will no longer have an aircraft apron.
CAAV recommends the first option and proposes the Ministry of Transport works with the Committee for the Management of State Capital at Enterprises to soon approve the investment plan of ACV in the 2021-2025 period.
CAAV also proposes to adjust the kick-off plan of the runways and taxiways project. The preparatory work will be done in 2022, selecting a contractor in 2023 and completing the project in 2024.
Banks told to rollout low-interest businesses loans
Commercial banks were told to launch a 40 trillion VND support package with a 2 percent yearly rate cut for businesses in a meeting with the State Bank of Vietnam (SBV) last week.
By May 20, Vietnam economy's credit growth was at 7.66 percent, double the figure from the same period last year. More importantly, the growth has been recorded in all major economic sectors including those that have been struggling since the start of the COVID-19 pandemic, such as tourism, transport and services.
It has been vital during a time when businesses desperately require capital to resume operations after a long hiatus and recent turbulence in the stock market.
The support package, approved under the 15th National Assembly's Decree No 43/2022, is the first to use State funds to support post-pandemic economic recovery through commercial banks. It was designed to include and grant capital access as well as low-interest loans to small-to-medium sized enterprises (SMEs), cooperatives and economic households.
The package, said to be working in tandem with current stimuli, aims to help businesses and households resume business operations, restore supply and demand and jumpstart the economy, according to the central bank.
During the meeting, the SBV asked local authorities to closely coordinate with commercial banks to ensure the process's transparency, fairness and efficiency. On the other hand, the central bank said it was to step up inspection and oversight to minimise abuses and exploitations of State capital.
Fitch Ratings maintains standalone credit profile of PV Power at BB+
Credit ratings agency Fitch Ratings has assigned the PetroVietnam Power Corporation (PV Power) a Long-Term Foreign-Currency Issuer Default Rating (IDR) of "BB" with a positive outlook for the second consecutive year.
 
The rating is on par with that of major groups such as the Vietnam National Oil and Gas Group (PetroVietnam) and Vietnam Electricity (EVN).
PV Power is the first Vietnamese power producer and the first unit of PetroVietnam to be assigned an international credit rating.
According to the agency, PV Power's Standalone Credit Profile (SCP) is driven by its strong market position as the second-largest electricity producer in Vietnam, accounting for around 7 percent of the country's total electricity output and 6 percent of installed capacity in 2021.
It also benefits from diversified fuel sources, long-term power-purchase agreements (PPAs) with EVN, for more than 80 percent of its electricity output and a strong financial profile, it said.
Five month import-export turnover up 15.6 percent
Vietnam's import-export turnover during the first five months of this year reached 305.1 billion USD, a year-on-year increase of 15.6 percent, according to a report released on May 29 from the General Statistics Office of Vietnam (GSO).
Of the total, Vietnam reported 152.81 billion in export revenue, a year-on-year increase of 16.3 percent.
Twenty-six groups of commodities posted an export value of over 1 billion USD each, with six with over 5 billion USD, in the first five months of 2022. Together they accounted for 89.6 percent of the country's total export, of which manufacturing industry accounted for 88.6 percent (0.5 percent decrease from the same period last year), seafood 3.1 percent (0.6 percent increase) and agricultural and forestry products 6.9 percent (0.5 percent decline).
Meanwhile, imports turnover reached 152.29 billion USD, a 14.9 percent increase year-on-year with the domestic sector accounting for 53.36 billion USD and the foreign-invested one 98.93 billion USD, up 14.7 percent and 14.9 percent, respectively. 
The US remained Vietnam's largest export market with an estimated turnover of 46.7 billion USD, while China was the largest import market with 49.6 billion USD in the first five months of 2022. 
Viet Nam's five month FDI disbursement up
     
Disbursement of foreign direct investment (FDI) experienced a positive yearly increase of 7.8 per cent to US$7.71 billion in the first five months of this year, as the national economy appears to be back to normal, according to the Foreign Investment Agency (FIA) under the Ministry of Planning and Investment.
The Government and relevant agencies' continual and effective assistance, along with efforts by enterprises to weather the pandemic and adapt to the new context, have helped firms gradually recover, maintain, and expand operations. That's why the disbursed capital has been rising over the past months, the agency explained.
Though the registered capital in the five-month period, $11.71 billion, was equivalent to just 83.7 per cent of the figure in the same period last year, only investment in new projects declined by 53.4 per cent to $4.12 billion while the capital poured into existing projects surged 45.1 per cent to hit $5.61 billion.
Capital contributions and share purchases by foreign investors also witnessed a significant year-on-year rise of 51.6 per cent to $1.98 billion.
The FIA said in its latest report that despite the COVID-19 pandemic's adverse impacts, foreign investors still put their trust in the economy and investment climate of Viet Nam in the new normal context, and decided to expand their projects in the country.
Among typical capital-added projects include the Thai Nguyen Province-based Samsung Electro-mechanics Vietnam project, which increased its capital by $920 million, and three plants for manufacturing electronics, network equipment and multimedia audio products in three localities of Bac Ninh, Nghe An and Hai Phong which hike their investment by nearly $306 million, $260 million and $127 million respectively.
Viet Nam shows potential in US fruit exports
     
Viet Nam has great potential to increase fruit exports to the US in the future, said Hoang Trung, director of the Plant Protection Department under the Ministry of Agriculture and Rural Development.
During Prime Minister Pham Minh Chinh's trip to the US in early May, Vietnamese businesses accompanying the Prime Minister met US companies, and the two sides signed many fruit export contracts to the US market, according to Trung.
Accordingly, besides fresh fruit, exports of some frozen fruit products, such as frozen durian and many other kinds of fruit are expected to increase strongly to the US.
In addition, Minister of Agriculture and Rural Development Le Minh Hoan and the US Secretary of Agriculture agreed on solutions to remove technical barriers to promoting the export of Vietnamese agricultural products to the US.
On May 17, the US Animal and Plant Health Inspection Service (APHIS) officially granted a certificate of irradiation treatment facility for the Toan Phat Irradiation Co. Ltd., Trung said.
Le Son Ha, head of the Plant Quarantine Division, Department of Plant Protection, said irradiation treatment was a mandatory requirement under US plant quarantine regulations for exporting fresh fruit to the US.
With the US' latest decision, Viet Nam has two APHIS-certified irradiation treatment facilities, including Son Son Corporation, the management unit of Son Son Irradiation Factory in HCM City and Toan Phat. These two facilities have a total irradiation capacity of 30,000 tonnes per year. This will be a favourable condition for enterprises to export Vietnamese fresh fruit to the US market.
Long An to maintain its leading economic position in Mekong Delta
     
Long An Province is focusing on sustainable economic development while staying safe from COVID, maintaining its position as an economic leader in the Mekong Delta.
At the start of the year, the province issued a socio-economic development programme for 2022 to assist struggling workers and businesses, facilitate production and utilise local specialities to speed up economic development.
Long An's gross regional domestic product (GRDP) in the first quarter of the year reached VND22 trillion (US$943.5 million), a 2.83 per cent rise year-on-year.
It has been providing an abundance of competitively-priced land plots and calling for investments into its traffic infrastructure since the start of the year.
According to many businesses, Long An has been making great efforts to create a favourable environment for investors. Many of them also had their investment certificates issued within a day of making their submissions.
Long An is Viet Nam's second-largest FDI attraction in 2021, partially thanks to its effort in administrative procedure reforms.
The province aims to maintain its leading position in terms of economic development in the Mekong Delta.
National petroleum management database system launched
     
The Ministry of Industry and Trade (MoIT) and the Ministry of Information and Communications (MoIC) have jointly launched a national petroleum management database system.
MoIT said the system would enhance the state management of petroleum, prevent illegal practices in the fuel business and help the authorities balance petroleum supply and demand.
In the first phase of development, two petroleum producers, 38 wholesalers and 329 distributors were given accounts to sign up.
Data uploaded to the system and its relevant applications will strictly with regulations on data reporting and information security.
The MoIT said it will continue to work closely with MoIC to refine the system, thereby further improving the state management of petroleum through the application of IT.
Viet Nam has 38 petroleum wholesalers, 329 distributing traders and 17,000 retailers so far. Total petroleum supply is expected to reach 6.7 million cubic metres in Q2, including 3.7 million from domestic production, 1.5 million from imports and 1.5 million in reserve.
Market likely to enter recovery wave: experts
     
The stock market recovered for the second week in a row, showing that the recent rallies are quite strong and reliable. Improved trading volume with rising momentum is also a positive support signal, reinforcing the uptrend.
However, with the VN-Index approaching the psychological resistance level of 1,300 points and after gaining for two consecutive weeks, the market is likely to face a correction. If any, it is not necessarily negative but will create an opportunity for the market to accumulate before having more positive moves, said experts from Saigon – Hanoi Securities JSC (SHS).
The market fell earlier last week, but rebounded in the following four sessions, helping the VN-Index to close near the highest level since May 11.
On the Ho Chi Minh Stock Exchange (HoSE), the benchmark VN-Index ended last week at 1,285.45 points, up 1.33 per cent, while the HNX-Index on the northern bourse – the Ha Noi Stock Exchange (HNX) – dropped by 0.68 per cent to finish the last trading session at 311.17 points.
For the week, the VN-Index climbed 3.6 per cent and the HNX-Index rose 1.35 per cent.
Trading value on HOSE increased by 7.7 per cent from the previous week to nearly VND73.2 trillion (US$3.1 billion), equal to a gain of 5.6 per cent in the trading volume to 2.89 billion shares.
The trading value on the HNX also edged up 3.8 per cent over the previous week to over VND8.8 trillion, equivalent to the trading volume of 405 million shares, up 2.8 per cent.
Meanwhile, foreign investors were net sellers on both main exchanges with a value of about VND348 billion, with a volume of 10.55 million shares. Of which, Hoa Phat Group (HPG) was sold the most with 9.5 million shares. It was followed by VNDirect Securities Corporation (VND) with 9.5 million shares and SSI Securities Corporation (SSI) with 8.8 million shares. On the contrary, they net bought the most of Dragon Capital Vietfund Management (FUEVFVND), with 16 million fund certificates.
From the technical analysis point of view of SHS, the market's recovery trend is receiving support, with the VN-Index bouncing off the psychological resistance level of 1,200 points last week to confirm the end of the correcting wave and entering a recovery wave with the nearest theoretical target of around 1,300 points.
However, if the market weakens again and the benchmark can not hold the threshold of 1,200 points, the market will once again return to the correcting wave, but this possibility is not high, the securities firm added.
On the other hand, although it has recovered strongly, the market valuation is still quite attractive for long-term investors with the price per earning ratio (P/E) of the VN-Index and the 30 biggest stocks tracker VN30-Index of around 14x, lower than the 5-year average.
With the recovery of the economy after the pandemic and business results of listed companies also showing impressive growth in the first quarter, the current stock price level is an opportunity for many long-term investments. However, investors can wait for a correction to disburse their capital, SHS recommended.
Various summer tours ready for holidaymakers
Many airlines and tourism companies informed yesterday that they are introducing millions of flight tickets, interesting tours to serve tourists this summer, along with attractive promotions from 10-40 percent. It is expected that the number of holidaymakers will increase significantly in the near future compared to this time 2019.
Vietnam Airlines, Pacific Airlines, VASCO have prepared 7.1 million seats to different destinations from June 1 to August 15, a rise of 18 percent as opposed to the pre-Covid-19 time. Vietravel Airlines has planned to increase their flight frequency to Da Nang City, Quy Nhon City, Phu Quoc Island, while introducing new routes to Indonesia, Thailand, and the Republic of Korea (RoK).
This summer is an ideal time for travel agencies as people have had to stay home for too long due to the Covid-19 pandemic. Saigontourist is expecting over 280,000 customers in the next few months. It has prepared various tours to accommodate the needs of different tourist groups. Fiditour – Vietluxtour announced that besides its regular domestic tours, its international ones to Thailand, RoK, Australia, the Maldives, and Europe are attracting much attention.
Ho Chi Minh City is launching many interesting city tours to serve both national and international tourists. Saigontourist, Fiditour – Vietluxtour, TSTtourist all have helicopter tours to view the city from above, boat tours to enjoy the fresh air of Saigon River at night, bicycle or horse-drawn carriage tours to admire the landscapes of Cu Chi District.
HCMC Tourism Association said that this remarkable rise of tourist quantity is such a positive sign for the industry, and that the localities should cooperate closely with tourist agencies to help holidaymakers enjoy their tours to the fullest, minimizing the case of tourist harassment.
Da Nang ready for Routes Asia 2022
The central city of Da Nang has become ready for the 16th Asian route development forum 2020 (Routes Asia 2022), the largest and biggest event to promote and connect flight networks in the Asia-Pacific region.
The event, slated for June 4-9, is expected to draw about 450 delegates from 200 international aviation agencies and organisations from Asia, Europe, the Middle East, and North America.
According to the city Department of Tourism, the department has worked with Informa Routes and Travel Retail as well as relevant agencies and sectors to make thorough infrastructure and personnel preparations for the event, including working session between city leaders and investors.
According to Director of the municipal Department of Tourism Truong Thi Hong Hanh, the forum is expected to open up great opportunities for the aviation industry in general and the tourism industry in Da Nang in particular, contributing to re-opening and developing international routes, attracting investment and tourism to the central coastal city.
In the framework of the 16th Routes Asia in Da Nang, nine events are planned, including an exhibition on tourism and aviation; a direct business connection programme with over 500 meetings between partners on the system of the Asia route development forum; conferences and workshops on aviation restoration in Asia and air service development in the new normal; among others. 
HCM City's export turnover expands 7.9 percent in Jan-May
Enterprises in HCM City exported 20.7 billion USD worth of goods in the first five months of 2022, posting a year-on-year increase of 7.9 percent, according to the municipal Statistics Office.
If crude oil is excluded, export value reached 19.8 billion USD, up 7.3 percent.
The export value of industrial products witnessed the biggest growth in the period, hitting 12.6 billion USD, 11 percent higher than that of the same period last year, accounting for 74.9 percent of the total.  
Of the figure, computers, electronic products and components raked in 6.85 billion USD; machinery, equipment, tools and spare parts 1.13 billion USD; garment-textile 1.8 billion USD; and footwear 1 billion USD, up 4.2 percent, 18.6 percent, 30.3 percent and 8.6 percent, respectively.
Notably, the export turnover of crude oil increased by 24.6 percent to 869 million USD in spite of a nearly-19-percent decrease in the export volume in January – May.
China remained the biggest importer of HCM City in the period, spending 4.37 billion USD on imports from the Vietnamese southern hub, up 10.6 percent year-on-year. It was followed by the US and Japan, with respective values of nearly 3 billion USD and 1.1 billion USD.
HCM City's import value was also reported to pick up 11.6 percent in the reviewed period, reaching 28.44 billion USD.
Vietnam aims to meet this year's export growth target of 8%
Despite existing risks continuing to impact production and exports, the Ministry of Industry and Trade is still making every effort to fulfill this year's export growth target of 8% set by the National Assembly (NA).
According to figures given by the Ministry of Industry and Trade, despite facing an array of difficulties due to the impact of the COVID-19 pandemic and the Russia-Ukraine conflict which pushed up fuel prices and transportation charges, exports and imports continued to see positive growth. This has therefore made an important contribution to macroeconomic stability and socio-economic development.
Over the past five months, total export turnover continued to maintain a high growth rate compared to the same period from last year, with total import-export turnover estimated to stand at US$311 billion. Of the figure, export turnover hit an estimated US$156.5 billion, up 29.8% on-year, while imports reached US$155 billion, an annual rise of 22.6%.
The balance of trade in goods during the five-month period is estimated to have recorded a trade surplus of US$1.53 billion, thereby helping to increase foreign exchange reserves, stabilise exchange rates, and contribute to macroeconomic stability.
Among the three main growth pillars, including investment, export, and consumption, exports represents one of the important contributory factors to national GDP growth, this pillar continues to see strong growth, even over the past two years of suffering from the impact of the pandemic.
Most notably, 2021 saw export turnover reach US$336.3 billion, up 19% from the previous year, with a trade surplus of roughly US$ 4 billion, while in 2020, export turnover reached US$282.66 billion, up 7%, with a trade surplus of more than US$19 billion.
FDI sector enjoys trade surplus of US$10.3 billion over five-month period
The import-export value of foreign direct investment (FDI) firms reached US$187.3 billion during the five months of the year, representing a year-on-year rise of 14.3%, with exports growing by 13.3% to US$98.8 billion, according to the General Department of Vietnam Customs.
FDI enterprises raked in a total of US$9.24 billion from exports during the first half of May, a decline of 30.1% compared to the second half of April.
By mid-May, FDI firms grossed a total of US$98.8 billion from exports, a rise of 13.3% against the same period from last year, and accounting for 73.1% of the country's overall export turnover.
Meanwhile, FDI firms' total import turnover soared by 15.4% to US$88.5 billion compared to last year's corresponding period, duly making up 65.4% of the country's total import turnover.
With these positive figures from the beginning of the year to May 15, FDI enterprises racked up a trade surplus of US$10.3 billion.
At present, FDI sector has significantly contributed to the nation's leading export groups, including phones and components, computers, machines and equipment, garments and textiles, and footwear. 
Hanoi receives up to 85,000 foreign arrivals in May
The total number of travelers visiting the capital in May stood at an estimated 1.88 million, including 85,000 foreign arrivals, representing a 16-fold rise compared to the same period from last year, according to figures given by the Hanoi Department of Tourism.
This strong rebound in Hanoi's tourism industry in April and May can largely be attributed to the nation hosting the 31st Southeast Asian Games (SEA Games 31).
Most notably, total tourism revenue during the reviewed period reached VND5.7 trillion, representing an 18-fold increase compared to last year's corresponding period.
During the opening five months of the year, the capital welcomed 6.53 million visitors, including 126,200 international tourists, with total tourism revenue reaching VND18.9 trillion, marking a two-fold rise against the same period last year.
Full automatic non-stop toll collection to start on Hanoi-Hai Phong highway on June 1
Full automatic non-stop toll collection (ETC) will officially start on the Hanoi-Hai Phong highway at 9am June 1.
Vehicles without ETC tags or insufficient money in ECT accounts will be fined if they intentionally enter the highway.
Under Point C, Clause 4, Article 5 of Decree 100/2019/ND-CP and revisions under Decree 123/2021/ND-CP, drivers of such vehicles will face fines ranging from 2-3 million VND and have their driving licences withdrawn for between 1-3 months.
Son La suggested as developer of Na San airport
The national aviation authority has proposed the Ministry of Transport seek the prime minister's approval for Son La Province to serve as the developer of the Na San airport project.
According to the Civil Aviation Authority of Vietnam (CAAV), the Na San airport was built in 1950 in the northern upland province of Son La. Until the 1960s, the airport resumed operations after being shut for a long time due to few passengers. In 1994, it reopened before closing down again in 2004 as its infrastructure facilities were rundown.
Under the Transport Ministry's zoning plan about the national airport system pending the prime minister's approval, the Na An airport is projected to operate A320/A321 aircraft or the equivalents by 2030, serving one million passengers per year. By 2050, the airport's capacity will double.
According to an orientation scheme on mobilizing private capital, the Na San airport was classified in Group 3 along with other airports such as Dien Bien, Dong Hoi, Pleiku, Buon Ma Thuot, Rach Gia, Ca Mau and Con Dao.
Ten commodities groups push CPI in May up 0.38%
A hike in prices of fuels, food and foodstuffs, and necessities has resulted in Vietnam's consumer price index (CPI) this month rising by 0.38% month-on-month, according to the General Statistics Office.
Among the 11 main commodity groups, up to 10 groups marked a month-on-month increase in prices, and one registered a decline.
Due to two upward fuel price adjustments by 5.93% and 3.99% in May, respectively, transport services saw the highest increase in prices of 2.34%.
The largest contributor to the overall index is the group of food and catering services, which recorded a month-on-month rise of 0.27%.
Beverages and tobacco also picked up due to rising input materials and transport costs.
Cultural, entertainment and tourism services inched up 0.74% as prices of package tours and hospitality services went up by 3.15% and 0.94%, respectively, given travel demand bouncing back.
In the year to May, CPI rose 2.25% against the 2021 figure but remained lower than the same period between 2017 and 2020. As for core inflation, which excludes prices of fresh food, energy and State-controlled healthcare and education services, it edged up 1.1%.
BIDV and MONRE sign MoU to promote green finance
     
Le Cong Thanh, deputy minister of the Ministry of Natural Resources and Environment (MONRE) and Le Ngoc Lam, BIDV's Chief Executive Officer, last week signed a Memorandum of Understanding (MOU) on cooperation in promoting green finance, sustainable development, environmental protection and response to climate change.
Under the MoU, MONRE will also support BIDV to strengthen its capability in environmental risk assessment and to develop criteria for environmental risk assessment on projects – the prerequisite for the development of sustainable financial products following international practices and suitable for the Vietnamese market.
In recent years, climate change is considered a serious challenge on a global scale, particularly for developing countries, which are vulnerable to and heavily affected by climate change, such as Viet Nam. At the COP26 held in November 2021 in the UK, the Prime Minister Pham Minh Chinh made a commitment to achieving net-zero emissions by 2050; while making several initiatives that showed Viet Nam's determination and responsibility to work alongside the international communities in efforts to respond to global climate change.
The timely implementation of Viet Nam's commitments at COP26 will bring great and long-term benefits to the country's sustainable development. Nevertheless, it also requires large financial resources and efficient coordination between the regulators and the business community. Against that backdrop, the role of the financial-banking sector should be promoted as a lever and catalyst for actions and projects to address climate and sustainability challenges.
Zalo top messaging app for Vietnamese children
     
Zalo is the most popular messaging app among Vietnamese children with 26.37 per cent of users preferring it, while YouTube remains the leading entertainment app in most Southeast Asian countries including Việt Nam (16.33 per cent), a study by global cybersecurity and digital privacy company Kaspersky has found.
The research on anonymised data voluntarily provided by Kaspersky Safe Kids users, such as search queries, popular Android apps and website categories, helps understand children's preferences and interests in the first quarter of this year.
TikTok is becoming the fastest growing brand in the world with diverse and limitless content ranging from entertainment and creativity to education.
The application has attracted the attention and interest of a large number of Vietnamese kids (11.24 per cent).
The next most popular apps during the period were Facebook (10 per cent) and Chrome (8.30 per cent).
Applications that support information exchange, such as Zoom (7.79 per cent), Messenger (7.35 per cent), Teams (6.02 per cent), and Gmail (3.51 per cent), maintained their popularity amid online learning.
Source: VNA/SGT/VNS/VOV/Dtinews/SGGP/VGP/Hanoitimes